Inventioneers Discovering Enterprise Applications
"We want to listen to every person who has an idea; even if they don't work at KZValve! Ideas are all around us, all the time, they just need to be recognized."
— Keith Ziegenbein, C.E.O. and C0-COB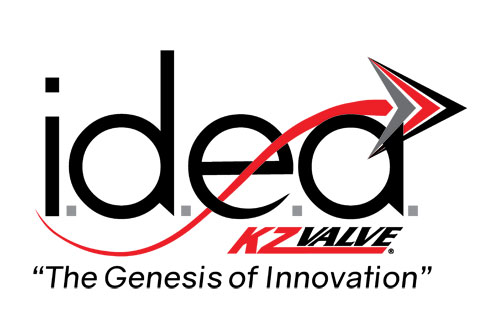 KZValve is committed to:
Hear your idea
Consider your idea
Discuss your idea
And possibly…

Implement your idea!

Have you ever had an idea but just didn't have a platform to bring it to life?! Now you do. We have created a program for people who want to share their ideas, have them considered, discussed, and possibly, implemented.

The process for submitting the idea form is simple, just click on the link below, read and agree to the rules, submission terms and conditions, and fill out the submission form.
KZ I.D.E.A. SUBMISSION FORM
KZ I.D.E.A.
SUBMISSION RULES
Qualifications for Review
In order for your I.D.E.A. to be considered, submissions should relate to products, features or function that primarily relate to items manufactured or sold by KZValve, or should at least be closely related to the product lines we already produce. However, we will review any I.D.E.A. submitted.
Examples of Ideas and Suggestions That Will Not Be Considered
1. Confidential or propriety information of any type
2. Product styling or design
3. Product names, slogans or logos
4. Advertisements or Marketing Ideas
Non-Confidentiality
Please do not submit confidential information. KZValve will not keep your idea confidential so please note that it will be copied and distributed to many people at KZValve for evaluation. We do not wish to make your idea public, but it will be communicated with a large number of KZValve employees that will review the idea, so it may be discussed with individuals outside of the company. If you would like to keep your materials confidential, do NOT send them to us. WE WILL NOT REVIEW CONFIDENTIAL INFORMATION. Please note that if you have preliminary discussions with any KZValve employee, they are not authorized to accept information on a confidential or restricted basis.
KZVALVE'S Obilgations
KZValve agrees to review your idea when properly submitted via the I.D.E.A. Submission Process, according to the I.D.E.A. Submission Rules. We have no obligation to use your idea. In return for your acceptance of the I.D.E.A. Submission Terms & Conditions, KZValve offers a non-confidential, preliminary evaluation of your submitted materials. Following the preliminary evaluation, if we are interested in pursuing your project, you will be notified by our sales and marketing team or someone from the I.D.E.A. Group. At that time, we may be able to discuss additional terms.
Consulting
KZValve does not act in a consulting capacity. We are not obligated to provide you with an explanation for any decision the Company reaches. This applies to the original disclosure as well as to anything you later disclose, orally or in writing. We assume no obligation to tell you something we already knew or have discovered since you submitted your idea.
Ownership
You must own the idea you are submitting. You cannot submit the idea of another person or party. The idea must be the original creation of the individual who signs the disclosure form and the signor must have the exclusive right to submit the idea to the company. Further, the signor must have the legal right to negotiate the idea with us and the power and authority to grant any and all rights in the material. This does not mean that you are granting any rights under a patent, which you already have or may obtain in the future, during this preliminary review. Often, employers will require an employee to sign an employment contract. Some conditions of this contract may be that the company will own ideas related to their business. Please determine whether your employer owns the idea you are submitting. KZValve cannot accept ideas that are in violation of an agreement or understanding with another party, such as your current or former employer.
Age & Terms of Conditions
1. I understand and agree to be bound to the following terms and conditions when I submit my idea to KZValve.
2. I agree to follow the "KZI.D.E.A. Submission Rules".
3. I am at least 18 years old.
4. I am the owner of the idea I am submitting to KZValve.
5. The information I am submitting to KZValve is true and correct.
6. I am not violating any agreement or understanding I have with another party, including my current or former employer.
7. I am aware that under the law of the United States and most foreign countries, I may be able to protect my idea through application for patents, trademarks, copyrights or maintain my idea as a trade secret by protecting it from non-confidential disclosure.
8. I am giving up all copyright and other intellectual property right claims (other than patent and trademark claims) I may have against KZValve for copying, disclosing, evaluating or otherwise using my idea.
9. KZValve is under no obligation to use my idea or to hold it in confidence.
10. I will not be compensated for ideas developed by KZValve independent of the idea I submit.